As Halo-Halo met in Berlin for its second in-person meet-up, nobody expected it to be so filling, literally! It was 48 hours of non-stop eating. We definitely took advantage of the fact that Berlin has twice as many brick-and-mortar Filipino restaurants than any other city in Germany. And by "twice as many", I mean it has two (Switzerland fares better at this with the city of Baden having three). Halo-Halo and I were fortunate enough to have the belly room to try the two restaurants in Berlin, both of which had a unique ambiance and style. This will be my personal review of both – split into two blog posts.
The first stop in our pinoy food hopping tour was Ayan – The Filipino Streetfood Restaurant. It is a cozy little place with no more than a dozen tables and a sari-sari store feel. We dropped by on a Friday evening and I was pleased to see that there were a good number of non-filipino diners. One of them was even giving the waitress his two cents about the sinigang he just had as we were settling into our table: the soup was apparently too sour. (I know a lot of people, including myself, who would kill for a properly sour sinigang.)
I'd have to admit that this wasn't my first time in Ayan. My first time was in 2017, when I ordered daing na bangus (fried milkfish) because the moment I saw it on the menu everything else dissolved into nothing. It was a choice made by the 12-year-old me that longed for the familiar taste of our staple Saturday lunch back in Manila. It's definitely an option for those yearning for home; though I wouldn't recommend it for pinoy food noobs.
This time around, I made sure I wouldn't be tempted by that crispy fish belly. Instead, I went for another kind of belly – the pork belly, or liempo. Plus two other meat options that came with Ayan's streetfood combo. We were, after all, at a street food restaurant. The two other options I took were pork adobo and tocino beef, although I had a few other choices such as fishballs (a classic streetfood, although typically not eaten with rice), chicken barbecue, chicken wings, etc. On the side you get a good portion of atchara (pickled papaya salad). It goes without saying that everything is served with rice.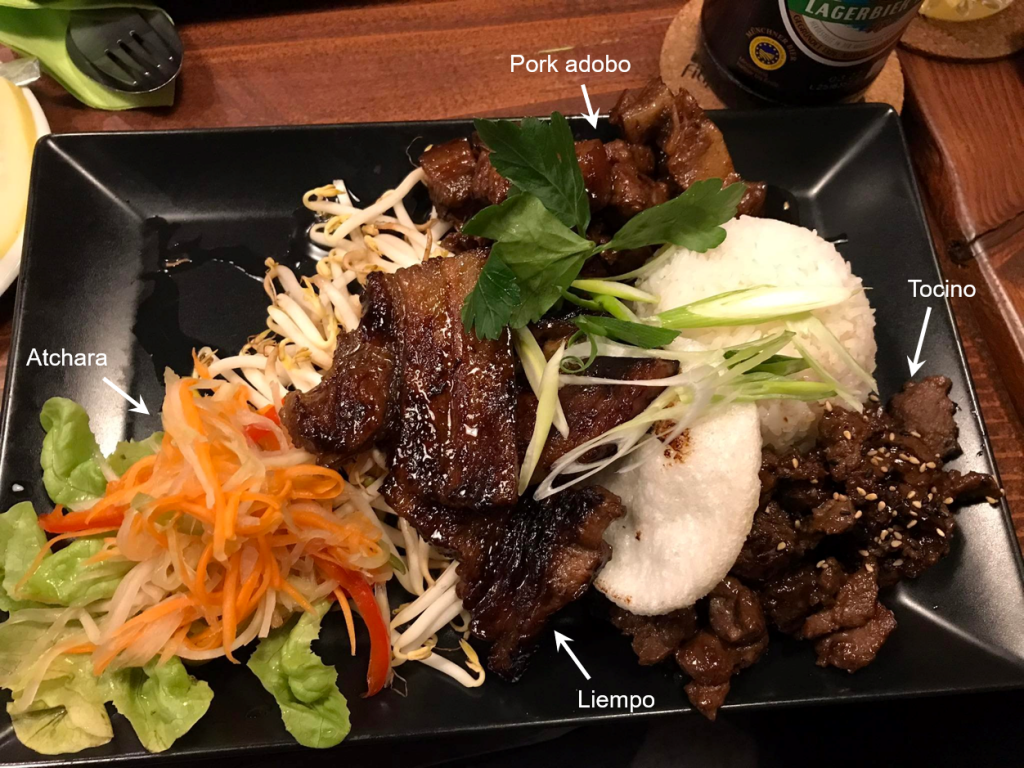 The liempo was my favorite. It was a taste I know and love, with the perfect blend of sweet and salty, plus a hint of depth from the grill-charred edges! Usually, something grilled like this would be served with a chili-garlic-vinegar dipping sauce. But in Ayan, there was no need for that. The meat itself had enough flavor to carry itself through on its own. It complemented the sourness of the atchara very well.
The adobo was good too, though I didn't enjoy it as much as the liempo. Some of you might be aware that adobo comes in many different variants depending on the region. Some are more sour, the others more sweet; some are more saucy, the others less so. Ayan's adobo is on the sour side, and is the type that isn't swimming in sauce. The adobo I enjoy the most has a tinge of sweetness and a ton of sauce, which is probably why it didn't quite hit the spot. Flavor-wise though, it's a solid adobo. It has the subtle laurel aroma and garlic-peppery undertone that accompanies the vinegar and soy sauce marinade. At the end of the day, that's all I really expect from an adobo, and in this sense, Ayan delivered.
The tocino beef was the least memorable of the three for me. But I suspect it's because I have a very specific image of what a tocino should be: I grew up eating tocino that is red in color. And although I know now that a tocino's red color comes from food coloring, which has no impact on flavor whatsoever, the lack of this visual stimulus made the experience of eating it in Ayan also lacking. I was pleasantly surprised by the sweet-garlicky flavor, but to me, it felt no different than teriyaki beef. Goes to show that dining is a multi-sensory experience.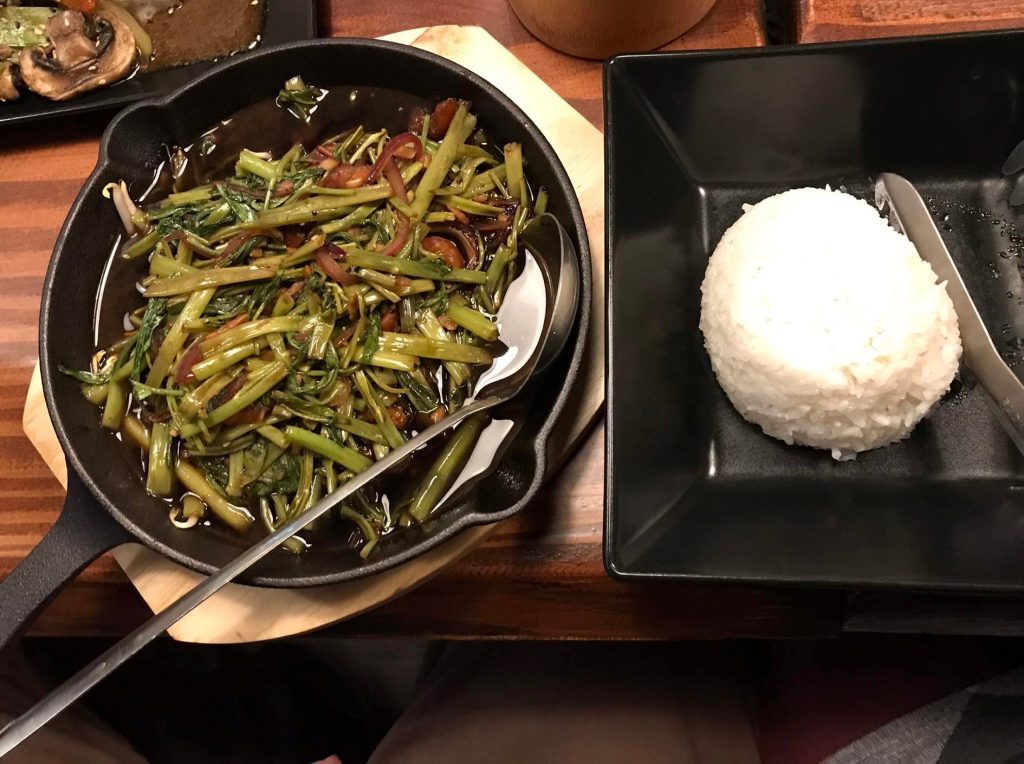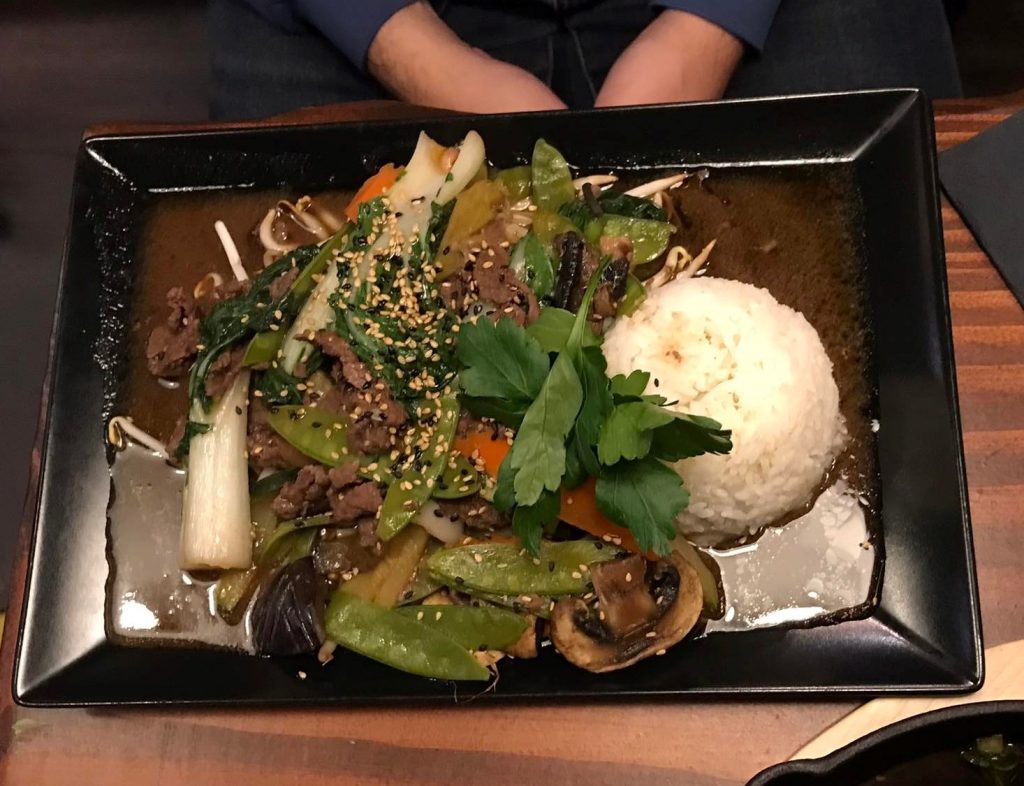 The other main meals I got to taste were the adobong kangkong and tocibet. The kangkong (water spinach) was just superb. It had just the right amount of ginger-soy sauce to pour over the rice, which is how we usually eat our adobong kangkong. The onions that were caramelized in the sauce came together very nicely with the slightly-crunchy kangkong. Highly recommended for pinoy food noobs and connoisseurs alike! I'm neither by the way, just your average pinoy-food loving expat here. 😉
The tocibet, I believe, is intended to be innovation unique to Ayan. The way I understand it, the dish is a combination of tocino + pinakbet. But I could be wrong. It certainly has the a few elements of a pinakbet (mixed vegetables with shrimp paste) with the eggplant, zucchini and other veggies, but pimped up with pieces of tocino. And you already know how I feel about Ayan's tocino. Though I can imagine that if real tocino (food coloring and all) were mixed in with pinakbet, I wouldn't know how I feel about that either. I am guessing the intention with the tocibet was just to have a pinakbet dish with beef, which is not a bad idea. The pinakbet I know is usually served with pieces of pork belly, so this isn't too far off. The difference is that the tocino beef adds a bit more sweetness to the dish, which is a nice touch. Overall though, I find it hard to distinguish the tocibet from the many mixed veggie dishes one can get at an asian restaurant. Then again, I only had one bite (thanks Rushiell!). Maybe I should give it another try the next time I am there.
To round out the main course(s), I also tried Ayan's ube cheesecake (top photo). Ube + cheese is a combination that is rather common in the Philippines, what with the ube-cheese pandesals and ube-cheese ice cream flavors one will find in the streets of Manila. But it was my first time to try an ube-flavored cheesecake. I haven't had anything ube in a while so I was pretty excited about this. Unfortunately, the ube wasn't as prominent in the flavor as the color suggests. The cream cheese was a bit too overpowering. I really enjoyed the chocolate graham cracker crust though! It added a slightly dark tone to the flavor, pleasantly contrasting the salty sweetness of the cheescake itself.
Over all, I had an enjoyable time at Ayan. My favorites are the liempo, the kangkong and the pork adobo. I would definitely go there again the next time I find myself in Berlin. Maybe I'll try the longaniza burger. 😉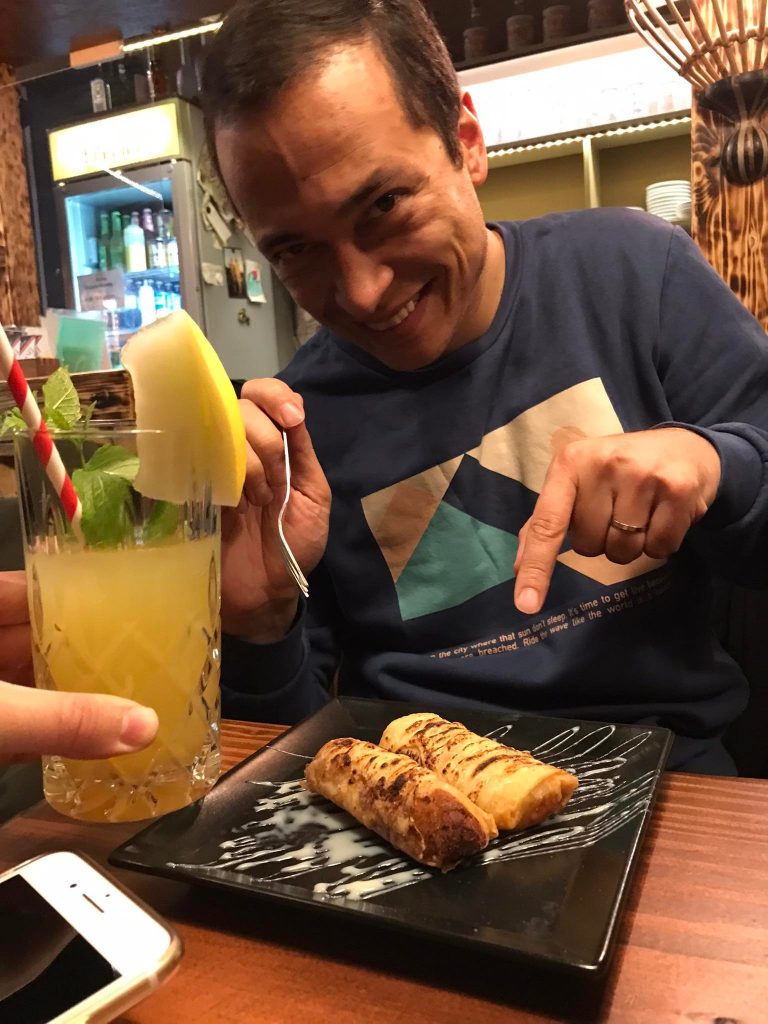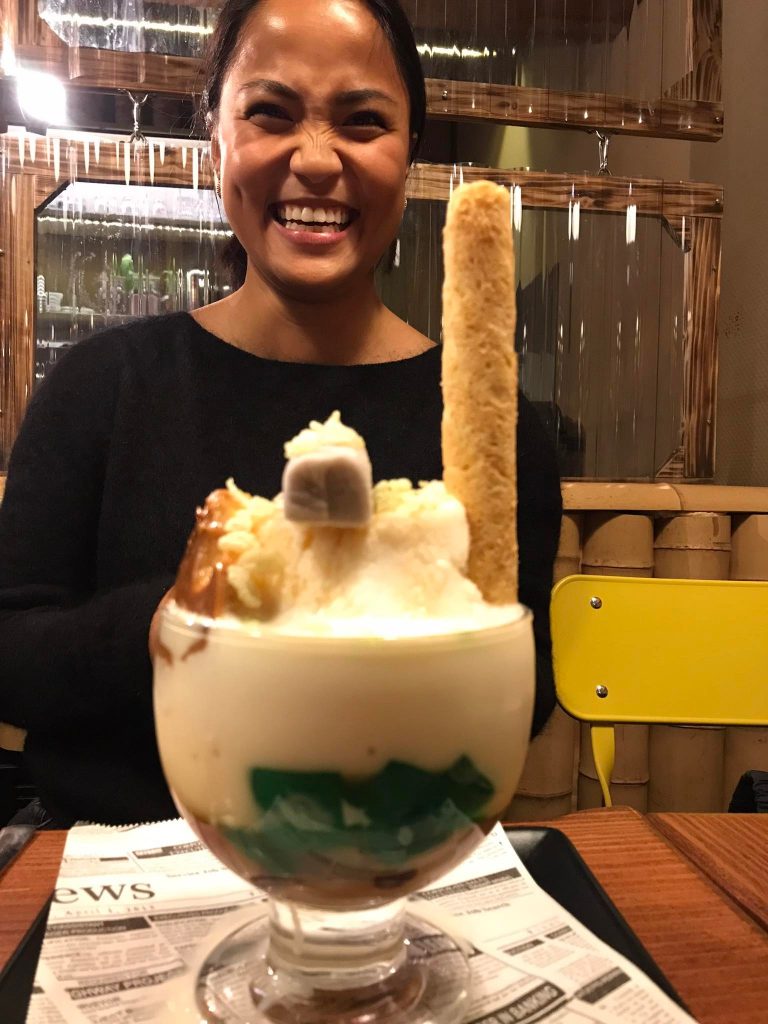 Here are some pictures of John and Angelique with their Ayan desserts: Turon and halo-halo. If you want to know how they liked it, join us in the next UGAT-Meeting and ask them yourself! 🙂